Comet 45P/Honda-Mrkos-Pajdusakova re-emerges from conjunction this week climbing progressively out of twilight each morning as the icy rock heads in to the constellation of Aquila. With a visual brightness of magnitude 7 and a daily improving altitude, the comet should prove to be an easy binocular object by the end of the week.
Keen observers with a clear eastern horizon should be able to glimpse the comet from tonight, (Morning of Wednesday 01st), about an hour before sunrise low in an east-south-easterly direction. Towards the end of the week, the comet will rise earlier climbing up to 15 degrees in altitude before nautical dawn. Over the weekend, the comet lies around 8 degrees to the right of bright star Altair. For viewers in Europe, the comet will lie roughly 2 degrees below 3rd magnitude star Denab Okab on Saturday 04th and 2 degrees above on Sunday 05th. For observers in western America, the comet will be almost a degree closer to Denab Okab by the time the comet rises on Saturday morning.
Comet 45P location on 04 February 2017 (morning)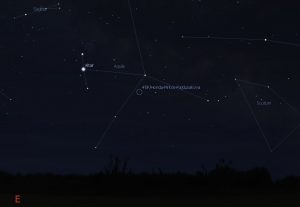 Tap/Click to enlarge
Further in to the month, visibility improves even more as the comet climbs higher in to Ophiuchus, Hercules and Bootes. The comet's brightness also improves slightly as it reaches closest approach to Earth on 11th February. The comet may reach visual magnitude 6.5 which is normally just within naked eye visibilty from a dark location, however the Moon will be almost 13 days old on the 11th which will undoubtedly render it invisible without an optical aid. There may still be a chance to see the comet with the naked eye as the Moon wanes later in the month.
Comet45P visibility – 01-10 February 2017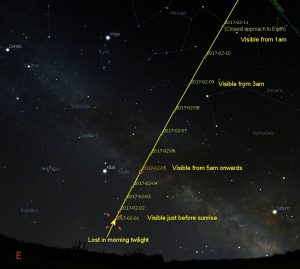 Tap/Click to enlarge
Comet45P visibility – 11-28 February 2017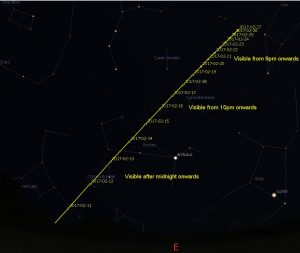 Tap/Click to enlarge