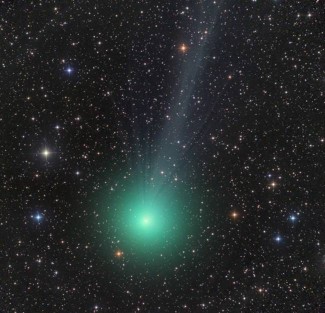 On March 09, Terry Lovejoy, an amateur astronomer from Thornlands, Queensland Australia discovered a new comet with his Celestron C14 telescope and QHY9 CCD camera. This new comet has been designated C/2017 E4 (Lovejoy).  The three images above were taken by Terry five minutes apart each being 8 seconds in length. They show the movement of the object against the background stars over the 15 minute period. Currently around magnitude 15, more accurate details about the comet's orbit and expected maximum magnitude will follow as more observations are made.
Orbital elements and observation data for C/2017 E4 (Lovejoy) are available from the Minor Planet Centre
Terry Lovejoy's achievements
Lovejoy has become quite a famous name amongst cometary fields due to the number of significant comet discoveries he has made. This latest addition will be his sixth discovery. This is quite a remarkable achievement given the equipment that he uses and the fact that these discoveries are made before any of the large professional sky surveys find these objects.
His first discovery was in March of 2007, designated C/2007 E2 (Lovejoy). The comet reached perihelion in the same month and closest approach to Earth was on 25 April 2007. The comet reached a maximum brightness of magnitude 8. His most significant discovery to date is most likely his third comet, C2011 W3 (Lovejoy). This 'sungrazer' moved through the Sun's corona at perihelion in December of 2011 at a distance of 0.0055 AU (87,000 miles) from the Sun. The comet reached between magnitude -3 and -4.
This was the brightest sungrazing comet observed by SOHO. Despite the extreme conditions for the comet, it remained intact throughout and resulted in a bright tail after it's reappearance from the Sun in late December. His discovery in 2013, C/2013 R1 (Lovejoy) reached magnitude 4.5 and another discovery in 2014 reached magnitude 4. It's clear that astronomers should always take note when Lovejoy discovers a comet!